News
What Determines the Quality of a Flexographic Printing Plate?

21-04-22

The flexographic printing plate can be considered the heart of flexographic printing as it has a decisive influence on the print results and productivity of the label printer. There are more than 40 flexographic printing plates for label printers on the market, but they all have different characteristics, printing behaviour and manufacturing processes. As a result, label printers are often faced with the extremely difficult task of selecting the right plate. With this in mind, Gallus spent several weeks studying and comparing the printing characteristics of all the top flexo printing plates. The results and evaluations ranged from the unusual to the unusable. Even if the perfect flexographic plate is not available in all areas, it is possible to identify a small number of top plates for the label press. The basics Most flexographic printing plates are now made of photosensitive polymers. Much fewer plates are made from rubber. The process of developing photopolymer printing plates involves the use of solvents, water and heat development. Most photopolymer aniline printing plates are washed off with solvents or water. Flat top dot In the printing plate industry, there is a current trend towards flat-top dot technology. The dots on these plates are flat at the top rather than rounded, which results in more consistent and accurate print results. "Conventional" digitally exposed photopolymer flexo printing plates usually have rounded printing dots. This is due to the presence of oxygen, which negatively affects the polymerisation of the photopolymer during UV exposure, causing the dots to shrink. The oxygen disrupts the polymerisation of the photopolymer, resulting in a rounded dot on top. Screening out the oxygen allows for the desired polymerisation, resulting in a flat-topped dot. There are several ways to remove destructive oxygen from the exposure process. Four options used by plate manufacturers are listed below. 1.Laminated laser imaging films prevent direct contact with oxygen during UV-A exposure. 2.Film (laminate) is laminated to LAMS and prevents direct contact with oxygen during UV-A exposure. 3.Pre-exposure with UV-LED removes oxygen while polymerising the upper plate layer. 4.During a conventional UV-A exposure, the plate is filled with an inert gas (nitrogen) to displace oxygen. What determines the quality of a flexographic plate? All presses have their own specific requirements for flexographic printing plates. While one may be focused on very fast production times, another may only be concerned with print quality. Others may place great importance on the ecological aspects. Generally speaking, pre-press and plate handling have a strong influence on the printing result. However, the most influential factor is the plate, which is predetermined and cannot be changed by the user. During the print tests conducted, aniline printing plates from top manufacturers were printed, checked and compared under identical conditions. These test...

Read More
Advantages of Flexographic Printing

21-04-22

柔版印刷仍然是标签行业中最常用的打印过程。没有适当的印版,因此没有适当的制版设备,就不会有柔印标签。行业领导者紧贴潮流,确保标签以最快的时间和最高的质量打印。 使用柔性板完成印刷,该柔性板最初由天然橡胶制成,然后由合成橡胶制成,现在主要由光敏聚合物制成。 柔版印刷在纸张,纸板或塑料薄膜上完成。低粘度液体油墨用于印刷。这些包括水基油墨,溶剂和紫外线(UV)固化油墨。非吸收性基材(薄膜)主要使用UV和溶剂型油墨进行印刷,但是由于其生态方面和适应性的提高,越来越多地使用水性油墨。 柔版印刷 柔版印刷或柔版印刷是一种使用柔性凸版进行批量印刷的技术。制造商首先将墨水施加到印版上,然后再施加到表面上。这是一种低成本的打印方法,自从1970年引入直接激光雕刻以来,它已经取得了很大进步。 平版印刷或平版印刷是一种印刷方法,最初是基于油和水的不可混合材料。平版印刷术可用于需要鲜艳色彩并大量印刷的任何事物。 但是,您正在使用的打印方法不仅需要实用而且要具有成本效益。对于定制印刷而言,柔版印刷与平版印刷是一个由来已久的争论,因为这是印刷和包装行业中的常规方法。 但是,当我们谈论瓦楞纸箱时,我们还是需要散装的。批量打印是一项繁琐的任务,并且需要某种程度的优化。诸如手头的预算,时间限制,打印质量以及如何使用盒子(运输或零售)等因素都在起作用。 印刷工艺 柔版印刷需要初始设置成本。Flexo使用安装在圆柱体上的柔性板。制造商使用部分浸入的墨辊将墨施加到网纹辊上。网纹传墨辊是一个硬圆柱,通常由钢或铝制成,带有陶瓷外层,并带有许多凹坑。制造商使用网纹辊将油墨均匀地分布在柔版印刷板上。 在柔版印刷过程中,通过与凹版滚筒类似的,具有均匀分布的单元(尺寸,形状和深度)的铬或陶瓷雕刻/蚀刻辊,将油墨计量到板的表面上。该辊称为" anilox"。 瓦楞纸板直接在压印滚筒和油漆辊之间运行。最后,制造商将基材穿过干燥机以防止弄脏。 柔版印刷可用于从食品包装纸到辅助容器的所有物品,例如谷物盒到运输纸箱。柔性版印刷板上的可光聚合材料在曝光时会发生交联并捕获图像。曝光后,将苯胺印刷版浸入溶剂中以除去未聚合的材料。显影或冲洗溶剂通常是氯,饱和环状或无环烃的混合物。二甲苯是最常见的溶剂。

Read More
Flexographic Product Packaging Design

21-04-22

数字柔版印刷是一种制版技术,其使用激光直接曝光柔版感光聚合物板。具有以下优点。 数字柔版印刷的优势 ①工艺简单,制备时间大大减少。 ②曝光时间与图案类型和点密度无关。 ③用阴影的同色异谱材料代替分隔纸可以消除分隔纸处理引起的点变形。 ④主曝光时,没有因点增益现象引起的光的漫反射,可以得到清晰的点。 ⑤实现了不带软膜的直接制版,不会出现布满污点和缺陷的布局。 根据数字柔版印刷版的特性,数字柔版印刷版可以获得精细,清晰和高质量的柔版。因此,为了提高柔版印刷的质量,数字柔版印刷板的使用势在必行。 为了使所设计的产品符合印刷要求,柔版产品包装设计人员在设计时应注意以下几点。 1.在使用颜色时,应尽量使颜色鲜艳,明亮 如果产品的设计叠印太多颜色,将导致颜色变暗。由于柔版印刷的网点扩大量较大,小网点损失更为严重,在一定区域内图案的套印颜色版本过多,每种颜色版本的网点扩大或丢失,网点扩大或消光的现象都会出现。反复淹没,使画面昏暗,缺少高光和中间色调部分,点过渡不均匀,非常可耻。因此,在同样完整地表达设计草图的条件时,应尽可能将印刷色的数量减少到最少,这对于批量生产印刷操作,质量控制和成本控制非常有益。 2.尝试使用专色来弥补四色印刷的不足 许多包装产品的客户总是要求设计人员在其产品设计中使用黄色,品红色,青色,黑色四种颜色套印超过十种颜色的手稿,但有时不仅可以通过三种原色或常规的四种颜色可以简单地显示整个色彩世界,额外的端口必须具有长和短的专色,而且是长和短的有效方法。单面夸张的叠印套色是不希望的。 苯胺印刷机是大面积领域和专色印刷的理想选择,苯胺印刷机大多为六色或八色,只有四种颜色会导致单元闲置,而且四色印刷效果比胶印或凹版印刷好,影响了柔版印刷的质量。产品。 3.不应使用太细的线条和太小的文字 因为柔性版印刷过程会变形,线条太细,文本很容易出现这种现象,而且边缘装饰太细且容易被主线下沉。细转白字或反白线,因为浮雕浅,很容易产生糊死现象。所以尽量使用较粗的线,装饰线与主线的颜色对比要大一些。

Read More
products
UV Drying 6 Color High Speed Flexo Plate Making Machine
contact now
Product Description
.Name: UV Drying 6 Color High Speed Flexo Plate Making Machine
2.Specifications & Parameters

| | | | | | |
| --- | --- | --- | --- | --- | --- |
| Model | Plate-Making Size | Dimension | Power | Power | Net Weight |
| JS550 | 550 X 350 | 800 X 750 X 1000 | 220V 50HZ | 2.2KW | 250KG |
| JS400 | 420 X 300 | 650 X 600 X 1000 | 220V 50HZ | 1.8KW | 200KG |
| JS750 | 750 X 500 | 1100 X 1000 X 1050 | 220V 50HZ | 1.5KW | 200KG |
| JS900 | 900 X 600 | 1250 X 1100 X 1050 | 220V 50HZ | 2.0KW | 310KG |
| JS1200 | 1200 X 800 | 1450 X 1200 X 1050 | 220V 50HZ | 2.2KW | 380KG |
3.Pictures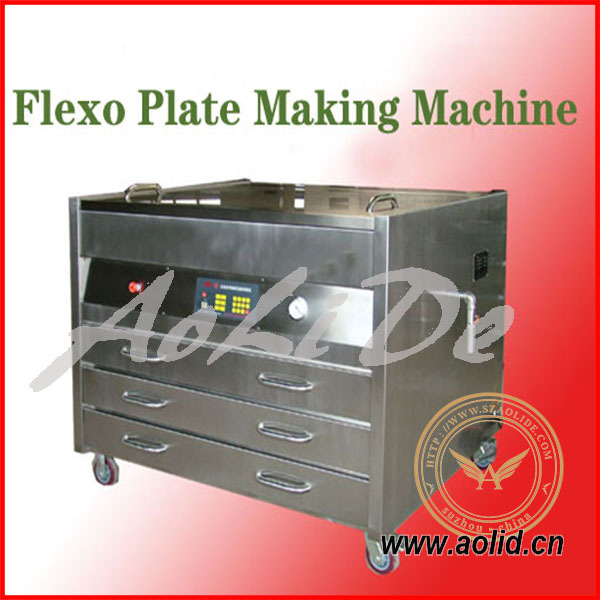 Characteristics:
1. It is made of stainless steel shell, featuring in durability and won't get rusty.
2. Adopt imported PHILIPS specification printer lamp, rectifier.
3. Imported slow reflective violet suction membrane.
4. Computer controller enables it to be easily operated.
5. Adopt American digital integrated them to sensor.
6. Fully automatic printing plate washer assembled with imported green sheet-sicking device.
7. Japanese Panasonic or oriental printing plate washer, Japanese ORIX constant dry oven featuring in strong wind.
8. Computer micro-controller program control, full electronic digital display.
9. It is a good equipment, which integrated exposure, printing plate washer    and drier.
If any request please contact me directly
    Skype:szaolide001
    Whatsapp:008615051421690