News
The Differences Between Flexographic And Offset Printing

21-07-27

Flexographic and offset printing are both popular, but they perform their tasks differently. It is important to understand the roles they play and to have a clear understanding of both types of printing processes. The following are the differences between flexographic and offset printing. Plates As the name implies, flexographic printing utilizes flexible plates for the rotogravure printing process. These plates are made of a photopolymer compound and are flexible enough to be wrapped around the printing cylinder. The relief image on the plate is held in place by a laser imagesetter, and the polymer in the non-printed area is washed off in a processing unit where it is dissolved into a solvent or aqueous solution. The ink is transferred from the ink bath to the flexographic plate by means of a rotating "anilox" roller. A separate printing station and flexographic plate are required for each color to be printed. The image is then printed directly onto the substrate. The plates are very durable and, if stored properly, can be reused many times before they eventually need to be replaced. Flexo Photopolymer Printing Plate For offset printing, as the name implies, the ink is transferred (offset) to the printing plate through a series of cylinders. This can be either a plate or a rotary process - depending on the type of offset press. The plate is usually made of aluminum. The complete wet image (single or multi-color) is then transferred to a "blanket" before drying and being transferred to the substrate. Ink Offset printing usually consists of four "printing" colors: cyan, magenta, yellow and black. Each color has a dedicated printing station. Any spot color is made up of a combination of printing colors. Inks can be water-based or UV-curable. Although printed colors are also used in the flexographic process, more printing stations tend to be used for spot colors. Spot colors can be pre-mixed or mixed in-house as needed. Flexographic presses can use different types of inks, including UV inks, aqueous inks, and solvent inks, etc. UV inks allow for higher run speeds and can be left in the press at the end of the day without the need to empty & clean each print station. When not in use, water-based inks need to be removed from the press - to prevent the ink from drying out on the cylinder and in the ink tray. Type of material to be printed on Offset printers can print on the following materials; paper, metal, cardboard, cellophane, and vinyl. The printing surface must be flat and smooth. Ideal for printing newspapers, books, magazines, stationery, posters, brochures, etc. Typically, a second pass is required for printing on both sides of the substrate. Likewise, any die-cutting, slitting, folding, creasing, laminating, etc. is done as a secondary offline process. Flexographic printing can be used on absorbent and non-absorbent materials such as paper, foil paper, cardboard, PET, BOPP, etc. It is mainly used for packaging, such as ...

Read More
Digital vs. Flexographic Printing: What You Need To Know

21-07-15

There is no definitive answer to this question. In fact, "contrast" is the wrong word to use when comparing digital and flexographic label printing; neither technology is inherently better or worse than the other. Which printing technology makes the most sense for a given job will depend on a range of brand-specific factors, including run size, promotional opportunities, lead times, design complexity, and more. Because there are so many factors to consider, there is no quick rule of thumb to follow." If it's X, then digital is the best technology for your brand. But if it's Y, then flexo is the better choice." So, with no easy answer to this question, how does a brand choose? Well, it requires a conversation with a label converter. And not just any label converter - a converter that has experience printing millions of labels on both digital and flexographic presses. A converter capable of printing with both technologies will give you an unbiased opinion on which technology is best suited to your brand's unique needs. While there is no substitute for a conversation with a converter, in this article we will give you the basics of each technology and some of the ways in which each may be "better" for your brand. Flexo Plate Making Machine Unpacking the "flexo vs. digital" debate Traditionally, the "flexo vs. digital" conversation has been decided on the basis of run size and cost, and here's the situation. Flexographic printing requires more setup time and requires the production of a new plate for every graphic change (e.g., flavor change, variety, etc.). However, because flexo presses have superior throughput speeds, they are perfectly capable of producing large orders at a low cost. The longer the run time, the faster the initial investment in setup and plate making is offset. Digital printing is a plateless printing technology that requires virtually no setup time. Eliminating setup and plate making costs makes digital printing competitive for small to medium label orders - but its slower production speeds make flexographic printing a better choice for longer orders. For each brand's label needs, there is a value crossover point. Flexo is the better choice for larger label orders, where the cost of plates and setup is reasonable; digital printing is the better choice for all runs below that threshold. This argument is sound-it's a good starting point for seeing how each technology can provide greater value in different situations. But that doesn't tell the whole story. Operational scale and cost are far from the only factors you need to consider when choosing between these two technologies. You may have heard the "digital vs. flexographic" debate, and these arguments tend to go one way or the other. There's usually a simple explanation for this. The company making this argument has only digital (or flexographic) presses, not both. But the truth is that there is no clear winner in the "flexo vs. digital" debate. In some cases, digital printing ma...

Read More
How Do I Choose Between Flexographic or Digital Printing?

21-07-02

Digital versus flexographic printing has been an ongoing debate for many years. The debate revolves around using it for roll labels. Some people prefer one over the other. Digital printing is exactly what it sounds like. You have a digital printer and you will print out several labels. One of the top printers can print at high speeds when there is a possibility that it may be comparable. Often referred to simply as flexographic printing, it is a popular type of printing because the labels are printed very quickly. You are transferring ink from the printing plate to the label being printed, which is the plate on a rotating cylinder. Let's compare these two different processes and see which one is better for your business. High Speed Flexo Plate Making Machine Why should you consider flexographic printing? One of the reasons you should consider this type of printing is that it really is old school. The reason it's faster is that the labels will feed into the printer at a very fast rate. If you have seen newspaper printing, it works the same way. The plate will be developed and whatever is on the plate will be transferred to the label. It may take longer when placing a design or multiple Colors, but due to the absolute speed of this process, it is a great way to print thousands of labels in the shortest amount of time. If you want to get more information about the high speed flexo plate making machine wholesale, welcome to contact us. Why should I choose digital printing? Digital printing offers you more flexibility, and it is probably becoming the most popular way to print almost anything. The printers that perform this operation also use rolls that are specifically designed for this type of printing. It is often referred to as a very good balance between traditional flexographic printing and the quality of a digital print job. The main difference is that you will be ready to print the label roll and in a very short time, the printer will transfer your design to the label. Which one should you choose? If you are looking for tens of thousands of labels in the shortest possible time, flexo printing is probably the best choice. As long as your design is perfectly made for the board, these can be done very quickly. However, the world isn't perfect, and neither is flexo printing. If you are looking for higher quality and more detailed design, then digital printing would be a better option. Essentially, the quality of the two options will be quite comparable. The only reason to choose flexo over digital cylinder printing is how fast the turnaround time is. When you get quotes for both types of print jobs, they will also be comparable. As mentioned earlier, the only major difference is the speed at which these machines can produce labels.

Read More
products
aolide thickness 2.84mm analog photopolymer printing plate
Item NO.:

ALD-R284-II

Payment:

30% T/T deposit,70% T/T before shipping

Market Price:

60

Price:

58/60/sqaure meter

Product Origin:

Jiangsu

Color:

Light Red

Shipping Port:

Shanghai

Lead Time:

20 workdays
contact now
Product Description
1- Item
aolide thickness 2.84mm analog photopolymer printing plate
2- Description
1)Excellent dot and isolated line reproduction
2)Solid printing performance
3)High latitude of exposure and processing
4)Good ink transfer
5)High impression
3-Technical Parameters
Type:R284-II
Thickness(mm):2.84
Rigidity(Shore A):46
Recommend relief depth(mm):1.0-1.4
Image reproduction:2%-95%
Maximum line line/inch:120
Minimum isolated line:0.175mm (0.007inch)
Minimum isolated dot:0.25mm (0.01inch)
Suitable ink:Suitable for water and alcohol-based ink, incompatible with oil-based ink, hydrocarbon solvent or the ink containing ethyl acetate of more than 25%
Mainly applicable field:Label、 Flexible package、Carry bag、
Folded paper box、Napkin、Beverage package
4- Process parameters
Type:R284-II
Thickness(mm):2.84
Back exposure(seconds):25-40
Main exposure(minutes):8-20
Rinsing(minutes):5-7
Minimum drying time(hours):1.5-2
Detackfying(minutes):5-7
Post exposure(minutes):3-5
1) Platemaking conditions: light of 80 watts (9.7mW/cm2 under 365nm), platesetter temperature 24-30 °C.
2) All the above data is depended on our plate-making device. Due to the different requirements of plate-making device, UV lamp power, relief depth and print image, the above recommended time can be changed appropriately. Customers should test on their own device for optimum plate quality.
5-Usage Scope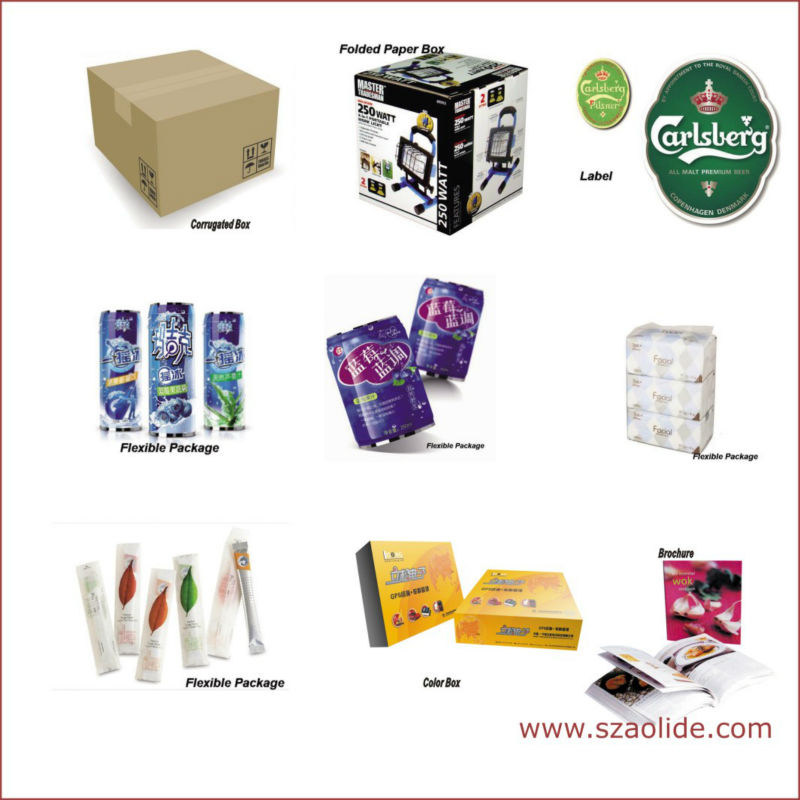 6-Dimension & Packing
Type:R284-II
762mm×1016mm (30"×40")
900mm×1200mm (35.4"×47.2")
1067mm×1524mm (42"×60")
1067mm×2032mm (42"×80")
1200mm×2032mm (47.2"×80")
1270mm×2032mm (50"×80")
7.Packing
8.Processing

Please feel free to contact me online or send me a message if you are interested in our products, thank you!