News
What Is The Difference Between Flexo And Digital Printing?

21-06-16

Product labels are an important part of any business marketing. They are a key element of brand recognition, convey important product information, and can be the difference between a customer's decision to buy or pass, so the details matter. Deciding between flexographic and digital printing for your packaging labels can be complicated, but we can make things easier. Let's review some of the different variables to get a better idea of which is right for your needs, shall we? Next, the flexo plate making machine supplier will share the following content with you. Flexographic Label Printing Flexographic label printing is like using postage stamps. The ink is applied to a rubber printing plate, just like a stamp, with elevated sections to form the image being printed. The plate is attached to a cylinder, which then rolls over the printing surface. This method of printing is a true craft, and press operators learn the trade through months and years of training. UV Drying 6 Color High Speed Flexo Plate Making Machine Digital Printing Digital printing is the transfer of a digital image to a printing surface by applying toner directly to the printing surface. Think of the large color copiers in your office. Flexographic Label Printing The Benefits of Flexographic Label Printing This process works with almost any label material, so it's a good option if you need to print your design onto a very specific surface or need to include lamination or foil stamping in the process. In addition, if you need to match exact Pantone colors, flexographic printing is always the right shade. Flexo is also a cost effective method of long-run printing.Disadvantages of Flexographic Label Printing Each color requires its own custom plate, so for complex designs, a lot is needed. Not suitable for short-term runs due to cost. Digital Printing The Benefits of Digital Printing Digital printing allows you to print clean and accurate images one quick pass at a time without the use of printing plates. Plus, unlike flexographic printing, you can easily make multiple versions of an image without the need for another set of printing plates. Disadvantages of Digital Printing This method can only be used for certain materials, and if lamination or laminating is to be added, it needs to be done through a separate process. In addition, these printers use a method of mixing toner to get the correct color, so perfect Pantone color matching is usually not possible, although the colors are usually very similar. Ultimately, the correct method of label printing will depend on which features are important to you. In addition, it is important to note that digital printing is more cost-effective when printing small batches or printing different variants, while flexographic printing is better suited to large scale single designs.

Read More
Is Flexographic Printing Right for Your Busines?

21-05-31

Now that we've looked at the main processes and technologies used in flexographic printing, it's time to explore whether it's the best option for your printing business. Before we look at the different options available for flexographic printing and its alternatives, we'll explore realistic budgeting and what you can expect to pay in the next section. Next, the digital flexographic printing plate supplier will share the following content with you. Create a realistic budget Because flexographic label presses are fairly complex and large machines, they inevitably require a significant investment. This is understandable when you consider all the variables involved in flexographic printing, such as the precise mounting of the printing cylinders. Any inefficient or defective components in the process can have a negative impact on print quality. These can lead to increased waste, increased yield, inaccurate print reproduction and an overall decrease in quality. So, when planning an investment in new flexographic equipment, which budget should you work for? This is an open question with many variables, so first we will examine the factors that affect the market value of flexographic presses. Factors that affect the price of a new narrow web flexographic label press Number of colors: the more color options available, the higher the price of the press. Web width: To print wider labels, a larger impression drum is required, which increases the unit cost. Type of drive system The more technologically advanced the print drive system, the more it will cost. Your choice is related to the level of technology and components involved in the drive. A non-servo drive will operate manually on an open-loop system with a few simple automation components, while a full-servo drive is a closed-loop system with more technology options. It will monitor feedback signals from the press and make automatic adjustments to maintain tension, register and print speed. Partial servo drives have some more limited feedback options, but not as many as full servo drives. Types of Drying Systems As mentioned earlier, prints can be dried by high-pressure air, infrared or UV curing. Some presses also use LEDs to fix the ink to the substrate. LED and UV systems are more expensive than IR and fan-powered systems, although LEDs may have lower energy requirements and therefore lower operating costs. Level of automation Modern presses can be very complex with a high level of automation. For printers, this can reduce labor requirements and can improve the efficiency of your production line, but it will involve a larger initial investment. Optional equipment Other equipment, such as web cleaners, corona treaters, video inspection systems, and conveyor systems, will increase the amount of money you need to spend on the press. Have a clear understanding of the basic functions required.

Read More
How Flexographic Printing Works?

21-05-17

The idea behind modern flexographic printing (or flexo printing) is ancient, with its roots in the letterpress technique first developed by Johannes Gutenberg in the 1440s. Of course, much has changed in the last 600 years, but printing historians will be able to see the imprint of history even in the most advanced flexographic presses. The first aniline press was developed in Liverpool in the 1890s and has gone through many incarnations since then. What makes flexographic printing so versatile and popular is its ability to print on virtually any flexible substrate. These include paper, cellophane, metal films, and plastics, making it ideal for printing food packaging and product labels. Aniline presses are also very efficient and cost-effective. Modern presses can reach speeds of up to 400m per minute, which is impressive compared to some alternatives such as lithographic presses or digital presses. It also has the advantage of using a wide range of ink types, such as water-based, solvent and UV inks, which makes it suitable for almost any application, including those with high health and safety requirements, such as food packaging. Flexographic Processes There are thousands of different types of flexographic printing machines, the best of which are manufactured in the UK, Europe, and the USA. Each machine shares a common printing process, so if you are familiar with a flexographic press, you will be able to understand them all. The key parts of the process are described below. The most important element of the flexographic printing process is the plate, which contains the image and text to be printed in negative as a mirror image. A separate plate needs to be made for each color used in the print run. Plate making is an art and science in itself. Three main methods have been used historically. 1) Metal plate etching/rubber plate The printed image negative is first etched onto a metal plate made of zinc or magnesium and then cleaned in an acid bath. The image will appear as a shallow relief on the plate. The second stage produces a plastic mold, which is then used to make the final plate from a flexible thermoplastic polymer. This is an expensive and time consuming method and is rarely used today. 2) Photo-etching/photosensitive polymer plate The printed image is etched directly onto the photosensitive polymer plate through a negative with the help of UV light. When the polymer hardens, it is then washed off in a water or solvent bath at a temperature of about 40°C. This is still the most common system used in flexographic plate production today. 3) Digital Plate Making/Digital Plate Making This most modern method uses a digital image to guide the computer-operated laser etching of the printing plate. This eliminates the need for negatives and is now the fastest growing technology for platemaking applications. The above information is provided by the photosensitive polymer plate supplier.

Read More
products
6.35mm Analog Photopolymer Printing Plate
Item NO.:

ALD-R635

Payment:

30% T/T deposit, 70% T/T balance before shipp

Market Price:

90

Product Origin:

China

Color:

Light red

Shipping Port:

ShangHai

Lead Time:

15 workdays
contact now
Product Description
1- Item
6.35mm Analog Photopolymer Printing Plate
2- Description
1)Excellent dot and isolated line reproduction
2)Solid printing performance
3)High latitude of exposure and processing
4)Good ink transfer
5)High impression
3-Technical Parameters
Type:R635
Thickness(mm):6.35
Rigidity(Shore A):36
Recommend relief depth(mm):2.2-3.0
Image reproduction:3%-95%
Maximum line line/inch:85
Minimum isolated line:0.3mm (0.012inch)
Minimum isolated dot:0.50mm (0.02inch)
Suitable ink:Suitable for water and alcohol-based ink, incompatible with oil-based ink, hydrocarbon solvent or the ink containing ethyl acetate of more than 25%
Mainly applicable field:Corrugated board
4- Process parameters
Type:R635
Thickness(mm):6.35
Back exposure(seconds):160-280
Main exposure(minutes):16-24
Rinsing(minutes):10-12
Minimum drying time(hours):3-4
Detackfying(minutes):5-8
Post exposure(minutes):5-8
1) Platemaking conditions: light of 80 watts (9.7mW/cm2 under 365nm), platesetter temperature 24-30 °C.
2) All the above data is depended on our plate-making device. Due to the different requirements of plate-making device, UV lamp power, relief depth and print image, the above recommended time can be changed appropriately. Customers should test on their own device for optimum plate quality.
5-Usage Scope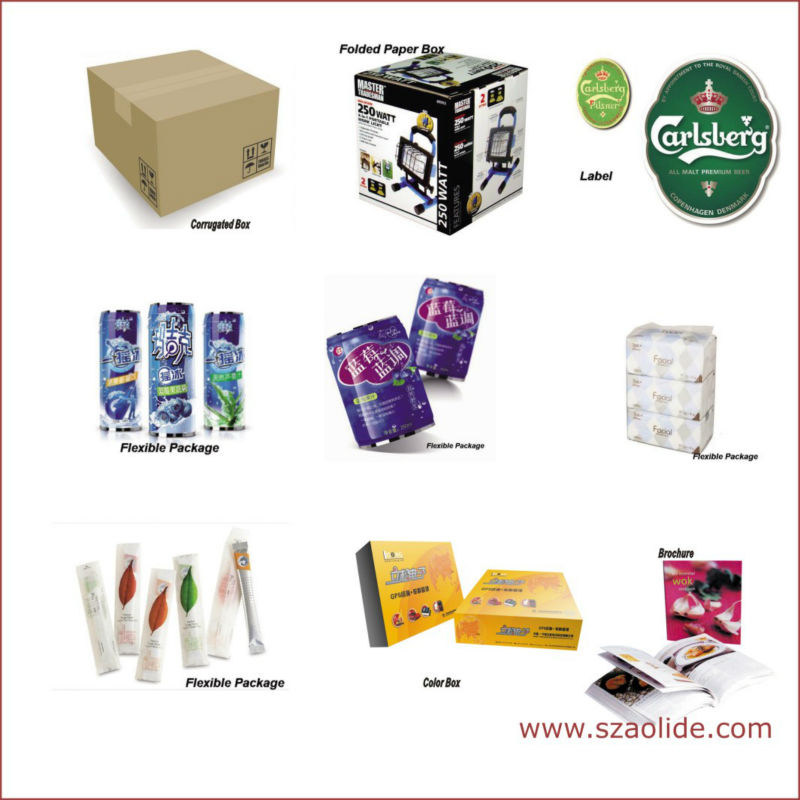 6-Dimension & Packing
Type:R635
762mm×1016mm (30"×40")
900mm×1200mm (35.4"×47.2")
1067mm×1524mm (42"×60")
1067mm×2032mm (42"×80")
1200mm×2032mm (47.2"×80")
1270mm×2032mm (50"×80")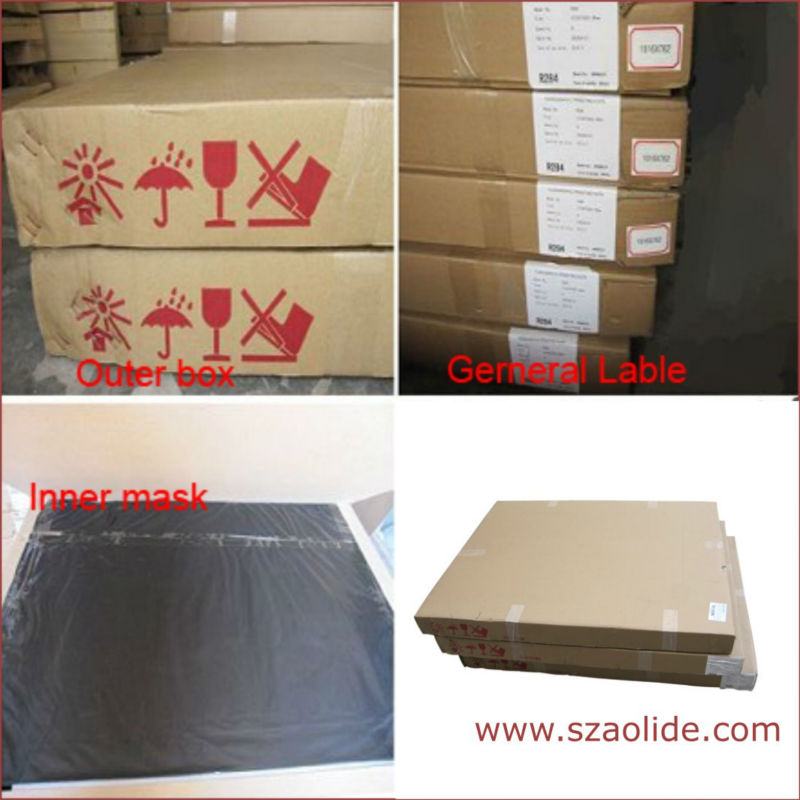 7-Processing

8-Storage & Guarantee
Unexposed plates should be stored in cool areas (4-32°C)away from heat. The plates must be placed flatly, and protected from contacting UV light. It is recommended to unpacked and handled in yellow light.
Printing plate should be avoid excessive white light, irradiating from sunlight and exposing in high concentrated ozone environments for a long time either. After being unloaded, the plates should be cleaned thoroughly.
Under the recommended storage condition, guarantee period of Flexographic Printing Plate is 24 months.
9-How to place an order
1-Please kindly send us your professional inquiry.
2-We send you our professional quotation with price, packing, technique data and company information.
3-Confirming the price, lead time, payment or some artwork.
4-We will send some samples for your test if you want.
5-When quality is approved, clients confirm quantity, then we make commercial invoice.
6-Clients pay the deposit and send us the bank receipt.
7-Start production according to clients' requirement.
8-Communicate with clients about the progress of production.
9-We take photos when production finished, clients pay the balance by T/T or by L/C.
10-Order can be say "finish" when you receive the goods and satisfy with them .
11- Feedback to Freedom about Quality,Service, Market Feedback & Suggestion. And we can do better.
Please feel free to contact me online or send me a message if you are interested in our products, thank you!